Scroll down to see the original:
Speaking of bands that tried to out-Flipper Flipper, the first to make a serious attempt might've been the
Church Police
, who rose briefly in the early 1980s from perhaps the most reviled of Bay Area edge cities, Concord, California. Most of the few people who know the band are only familiar with their contribution to the definitive Bay Area hardcore document, the
Not So Quiet on the Western Front
compilation. "The Oven Is My Friend" (later covered by
Sebadoh
on their
Siltbreeze
7") was one of the two great weird songs to grace that LP (the other was Flipper's "Sacrifice"). Even fewer people noticed in the mid 1990s that the enigmatic
Stomach Ache Records
released a 7" (cooperatively with
RRRecords
) of rambling freer-form songs by the Church Police with minimal sleeve info. I stupidly sold that record away about six years ago, but "Robots" was a song so memorable that I can replay it in my mind whenever I think about it, and "Killing Myself to Live" might be the best song title ever.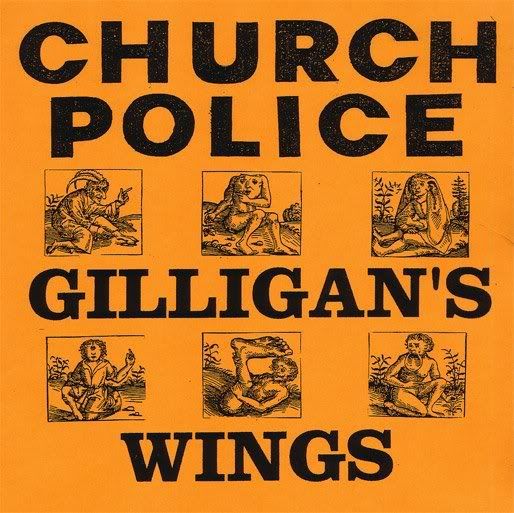 I doubted that any other Church Police songs existed, so I was so pleased when Ry of
Snake Apartment
--who runs the very tasteful
Skulltones
imprint--delivered a copy of
Gilligan's Wings
in person to KDVS. These recordings from 1982 are of plenty good quality, and the songs are much more coherent than the rather rambly mysterious 7". Rumor has it that this is an appetizer for another label's full-course retrospective release.